Commercial-Grade Printing on Products & Parts
---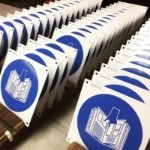 (Looking for small-run full-color printing on metal badges & plates? That's here.)
If you need vibrant & lasting spot-colored product imprints that won't fade, chip, or scratch, industrial screen printing or pad printing should be your production-methods of choice.
Once set up, both methods provide superior Large-Run print quality & cost-effectiveness, each with their own distinct merits:
---
Industrial Screen Printing (also known as Silk Screening) involves transferring a permanent 2D image onto any type of semi-smooth metal, plastic, or fiberglass surface using a specially-burned screen. Trinkets, chassis, vinyl, canvass, panels, boxes & more can all be screen printed to fit your production needs. We have more than 30 years combined Industrial Screening experience on staff, and have printed parts for major companies such as L3 Communications - EOtech, Hummingbird, QED, Infrasource, and Moleskine Books.

Pad Printing (also called tampography) involves transferring permanent 2D prints onto odd-shaped or irregular 3D objects via a stamping method with a soft pre-cast pad. Casts & rigs are made custom to each job's print-copy & requirements, so pad Printing is a great solution for high-quantity or repeated jobs, but setup can be too costly for one-off projects that don't have high payoff potential.

Click to View Industrial Screen Printing & Pad Printing Gallery
Please consult with your MSW Print rep or inquire below about whether your job is most-fit for screen printing, pad printing, or for our industrial flat-bed printer.