Commercial-Grade Printing on Products & Parts
---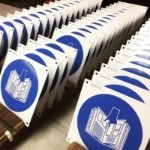 (In search of small-run full-color printing on metal badges & plates? That's here.)
MSW Print uses three major methods for adding permanent & vibrant commercial-grade imprints to a limitless number of products of industry.
From the Digital Flatbed, to Screen Printing, to Pad Printing, our methods offer varying levels of agility & scalability.
Depending on your item, print complexity, production-volume, & overall-goal, our experts will be happy to help you with one or more of these methods; from prototyping, through the end of your run!
More on each method below; or use the form for help from our experts!
---
Transfer a permanent 2D image onto any type of semi-smooth metal, plastic, or fiberglass surface using a specially-burned screen.
Great for printing on production panels, chassis, canvas, casings, boxes, widgets & more.
Our highly-experienced staff have done past & current work for major companies like tier 1 auto suppliers, QED, Moleskine, & Carhartt

Transfer permanent 2D prints onto odd-shaped or irregular 3D objects by stamping a soft pre-cast pad.
Each job is custom-tooled, so pad Printing is a great solution for high-quantity or repeated jobs.
Setup can be too costly for short-run jobs without high payoff potential.

Unlike the other methods, this allows for full-color permanent printing without an intense setup.
Our preferred method for prototyping, the Flatbed offers quick & versatile printing capabilities for any flat-faced object able to fit within the 24"x28"x6" bed. We even have a roller-jig for printing on cylinders.

Click to View Industrial Screen Printing & Pad Printing Gallery
Please consult with your MSW Print rep or inquire below about whether your job is most-fit for screen printing, pad printing, or for our industrial flat-bed printer.