Envelopes
---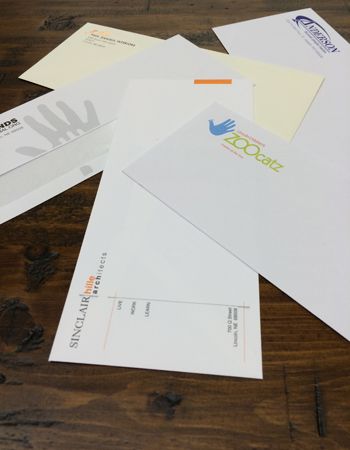 The envelope is the first thing a potential customer sees. It can make a big difference in your direct mail campaign. Here is a tip that can bring new life into your direct mail campaign. Get the customers attention before they recycle your mail.
This can be done in a few different ways, one method would be to put an engaging picture on the envelope. A different method may be a quiz engaging and making the potential customer think about the mail piece or a zip strip, a repositional note or even your signature on the return address. 
"The purpose of the carrier envelope (other than keeping its contents from spilling out onto the street): to get itself opened." -Herschell Gordon Lewis.
We specialize in creating:
Announcement envelopes
Business envelopes
Card envelopes
Clasp envelopes
Invitation envelopes
Jumbo envelopes
Self-seal envelopes
Wedding envelopes
Window envelopes
Keep in mind 
An envelope is the first impression, however, custom stationary or letterhead can be a lasting impression. Let us know how we can help you and we'll roll up our sleeves and get to work.