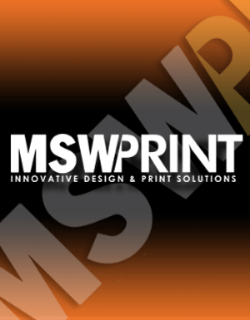 MSWPrint.com is a family owned and operated business located in South Eastern Michigan. In business for over 25 years, we have the experience to serve your company with world class customer service, graphic design and print work of all kinds. Most of our clients have been with us for 25 years and they TRUST us. Yes, trust us and rely on our team almost as if we were an employee of their company, knowing that we have their company's best interest in mind, not our own.
MSWPrint.com's goal is to handle everything for you so you can sit back, relax and let the growth of your business happen naturally. We streamline everything so your order can be naturally hassle free and you don't need to spend your valuable time worrying about marketing.
We pride ourselves in serving up good, old fashioned customer service and meeting your individual needs as our valued customer. Remember those days?  The MSWPrint.com team loves what they do and we will go to any length to provide you with a great experience! We want you to enjoy your experience working with us and we truly want to help you grow your business. From creative designers to helpful customer service professionals and accounting services; every step you take with us will be an enjoyable experience for you and you staff.
From car parts to letterheads, MSWPrint.com has printed on just about everything. We service all types of businesses and organizations with signs, banners, decals, vehicle wraps, apparel, flyers, checks and envelopes..and much more. Our services include: apparel screen printing and embroidery, pad printing, industrial screen printing, wide format printing, commercial printing as well as a complete service for promotional products.
MSWPrint.com can print nationwide and supports many companies with nationwide locations.  We can print and ship to any location.
If it is fast friendly hassle free printing you need, you're at the right place.
Give MSWPrint.com a call at (734) 975-9935 and let us see how we can help you on your next project.
Scott Katke, Founder