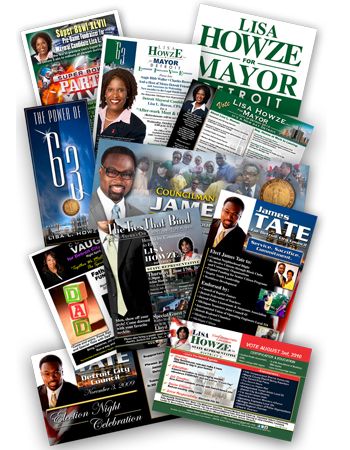 Political campaigns are very savvy. Reaching your intended audience and getting your message across clear and concise is the key to every campaign. Developing a brand identity, theme and marketing campaign is what we do best. After all you are campaigning for an office to serve the people.
Our design team has over 15 years in the Political arena, creating an image that will not only gain awareness of your platform but also, get the votes! Having successful campaigns over the years with city and statewide campaigns. As a result of our marketing, and design support, many have gone on to win their elected positions, we offer:
Campaign Theme & Identity Design
Literature Card Designs, 2 sided full color
Campaign Banner Designs
Yard Sign Designs
Fundraiser & Event Flyer Designs/Eblasts
Campaign Buttons, Letterheads, Name Tags
Facebook/Twitter Graphics, Icons, Campaign Ads and Etc.
AV Mailer Card Designs for Postal Mailing
Campaign Website Design and Maintenance
Business Card Designs, 1 and 2 Sided versions
Campaign Window Signs
Campaign Hats and T-Shirts
Various Other Campaign Marketing Support and full service printing, union supported
Contact us today to see what we can do for you.
Please click here to view our Political Campaign samples.